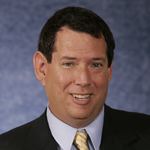 Chuck Cooperstein returns to Westwood One as a play-by-play announcer for college football in 2015, having previously broadcast NFL, college basketball and college football for the network.
Chuck is also the radio play-by-play voice of the NBA's Dallas Mavericks and has been a long-time talk show host in Dallas.
Chuck lives in Coppell, Texas with his wife, Karen, and his son, Jeffrey.
Chuck Cooperstein's Posts
10/03/2015
COLLEGE STATION, TX - Kyle Allen threw a pair of touchdown passes and Tra Carson carried the load otherwise as #14 Texas A&M improved to 5-0 with a 30-17 win over #21 Mississippi St. Allen...