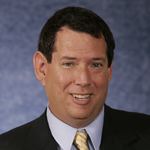 Chuck Cooperstein returns to Westwood One as a play-by-play announcer for college football in 2015, having previously broadcast NFL, college basketball and college football for the network.
Chuck is also the radio play-by-play voice of the NBA's Dallas Mavericks and has been a long-time talk show host in Dallas.
Chuck lives in Coppell, Texas with his wife, Karen, and his son, Jeffrey.
Chuck Cooperstein's Posts
09/28/2014
SAN DIEGO - Philip Rivers was on fire again, throwing for 377 yards and three touchdowns, as the San Diego Chargers improved to 3-1 with a 33-14 victory over the Jacksonville Jaguars. Jacksonville...