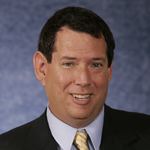 Chuck Cooperstein begins a second season as a play-by-play announcer on our NFL coverage, but he is no stranger to the network having done play-by-play for NCAA Basketball since 1991 and NCAA Football since 1995.
Chuck is also the radio play-by-play voice of the NBA's Dallas Mavericks and has been a long-time talk show host in Dallas, presently working with former Dallas Cowboys Pro Bowl offensive lineman Nate Newton.
Chuck lives in Coppell, Texas with his wife, Karen, and his son, Jeffrey.
Chuck Cooperstein's Posts
10/06/2013
ARLINGTON, TX - The Broncos and Cowboys combined for 99 points and more than 1,000 yards of total offense in a shootout in Texas on Sunday, with Denver coming out on top by a final score of 51-48...